The Sage CEO Circle is an inaugural awards program for recognizing and rewarding the outstanding performance of Sage's top business partners around the world. Sage is the market leader in cloud accounting software and announced the winners of this award at the end of November.
A Sage business partner since 1985, Southeast Computer Solutions (SCS) was named the winner in the "Top Sage Enterprise Management (Sage X3) New Product Sales (#1)" category for North America.
For Southeast Computer Solutions, Sonia Ferrera says,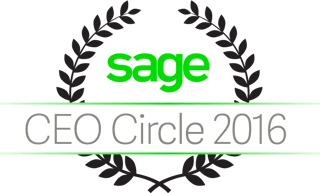 I know that my team worked very hard this past year to accomplish this feat, and I am so proud of them. Just a few years ago, it seemed that adding another Sage product to our portfolio was going to be a daunting task, but now we're glad we signed up. Sage Enterprise Management has proven to be the right move for SCS, and we couldn't be happier with our decision. More importantly, our clients really seem happy with what Sage offers and we can see ourselves supporting it for many years to come. It has really electrified the team. Although Sage Enterprise Management can be applied to many different industries in the manufacturing and distribution sectors, having strong industry knowledge about a few key industries has given us the competitive edge.
We are elated to receive this honor from Sage!

In addition to winning this prestigious award, Southeast Computer Solutions CEO Sonia Ferrera also has the unique opportunity to join Sage CEO Stephen Kelly and the other CEO Circle winners at an all-expenses-paid luxury retreat in Costa Rica. Sage promises that this event will be "meaningful and memorable – a perfect blend of business, networking, and 1:1 meetings surrounded by the exotic culture and beautiful environment of Costa Rica."
We couldn't, of course, do it without you, our customers. Thank you for supporting us here at Southeast Computer Solutions!
About Southeast Computer Solutions
Southeast Computer Solutions is based in Miami, Florida, and has additional operations in Mexico. For over 30 years, we have positively impacted the success of small and mid-sized businesses with effective business management implementations that improve our clients' operations. We listen, we are accessible, and we care. Learn more by visiting our website or calling 305-556-4697.