As a power tool distributor, your company is responsible for keeping other businesses equipped with the power tools they need to handle construction, renovation, and other types of physical projects. Without the proper distribution processes, your workflow may be stagnant or stalled. Relying on individual employees to handle every aspect of the distribution can result in errors, which can cost your business much time and money as well as increase the risk of losing customers.
Use the Right Tracking Software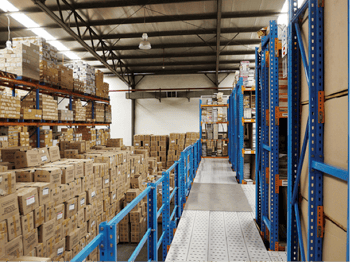 Image via Flickr by nSeika
Shipping is one of the most expensive aspects of running a power tool distribution company. Getting the tools where they need to go is critical to the success of the business, but it's also expensive. Accidentally sending tools to the wrong place can waste time and money, which could impact a power tool distributor's bottom line. With the cost of labor on the rise, paying people to handle the entire process is getting more expensive.
With an effective inventory tracking program, you can simplify the complex task of distributing tools and improve your workflow. It's critical to manage your inventory and make sure you know where everything is going, when items are due to a customer, and how you'll send each item. When you have software in place that handles many of these tasks, the workflow becomes as easy as scanning the barcode on a specific tool and entering the customer account number for tracking purposes. You'll save much money and time by implementing an inventory and shipping tracking system.
Establish a Compliance Program
Working with vendors and establishing relationships is vital to the success of your distribution business. With a vendor compliance program in place, you can enhance the strategic relationship between your company and the vendors used to fulfill orders. Some of the benefits of a successful compliance program include streamlined operations, improved service times, and increased customer satisfaction. Many of these programs include tracking processes from the vendor to the business, ensuring that all items are processed, handled, and received on time.
Ensure Effective Communication Channels
Even the most efficient workflow can fall apart if those involved can't communicate with one another. Having effective communication channels within your business is imperative to its success. Employees in a warehouse must be able to communicate with each other, as well as with members of the leadership team to share their feedback and look for ways to improve.
Improving your distribution workflow can be difficult if you're not hearing from the people who are on the front lines every day. Make sure you have ways that your team members can talk to each other and collaborate, as well as making sure all employees know how to go about engaging in important communication.
Distribution software applications, like ScanForce add on with Sage 100, remove some of the complexity of running a power tool distribution service. With resources and solutions, you can simplify every aspect of business operation, including the management of inventory and workflow for distributing the inventory. With the right resources, you can optimize your inventory levels and improve profitability as your company grows.
---