Running an e-commerce business comes with a number of required tasks. You're responsible for managing customer and vendor data, ensuring orders get shipped out on time, and keeping your inventory stocked and up-to-date on the site where you sell your goods. Keeping track of all these required tasks can take ample time, which is something that most business owners don't have a lot to spare. With the right enterprise resource planning (ERP) solution, you can take your e-commerce business to the next level.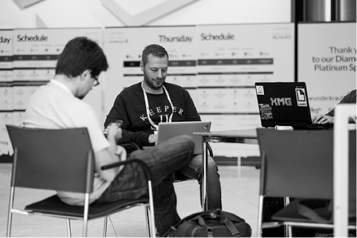 Image via Flickr by boris.baldinger
When you're trying to use manual processes to manage e-commerce business tasks, you will waste copious time. An ERP system brings together your most critical business functions, such as shipping and tracking of orders, managing sales orders, updating inventory counts, handling customer data, and reviewing trends. If you use multiple systems for these functions, your ERP should be able to integrate them, giving you a single point of access.
You may also choose to use an ERP for accounting and finance tasks. This keeps the vital data in a single location with your other business data. Examples of tasks available in this type of system include the generation of balance sheets, open balances, profit and loss statements, inventory levels, and cash flow status. Having all your information in one place where it is readily accessible improves efficiency in your business.
Maintain Compliance
Every business is subject to federal, state, and local regulations. Failure to comply with any of these regulations could result in stiff penalties and fines, which could potentially bankrupt your business, depending on the severity. The rules enforced on businesses that sell alcohol, food, cosmetics, and supplements are especially crucial. With an ERP system, maintaining compliance is easier because the rules are easier to track and manage. Some systems have built-in information for shipping, container labeling, and tax collection. Using an ERP with these integrated features, you can reduce the risk of being out of compliance and facing an audit.
Support Your Customers
Running an e-commerce business is impossible if you don't have customers. However, your customers and potential customers expect rapid response times and quick delivery of the products they order. If you want to compete with large-scale businesses and providers of brand-name goods, you can't rely on manual processes and hope that things go out on time. Use your ERP to improve the fulfillment process for your customers. This system can allow customers to see what inventory of a certain product is available, as well as view the fulfillment status and tracking details for orders placed.
An ERP should also manage inventory, create labels with the information provided by the customer, and create a more customizable shopping experience. If your inventory runs low or you're unable to ship, use the communication feature of the ERP to keep customers informed.
Sage Enterprise Management, formerly known as Sage X3, is an ERP system designed with the needs of today's e-commerce business in mind. It simplifies collaboration among team members, streamlines operations while increasing productivity, and helps you gain insights into your business.
Learn more about Sage Enterprise Management and find out whether it would work for your business's needs.
---
We're happy to invite you to join us for a free event!
Attend our webinar and learn how our cloud solutions provide peace of mind enabling clients to focus on their business while the SCS team handles the information technology needed to support it.
Date & Time:
Thursday, October 18

,

2018


11:00 am - 12:00 pm


CLICK BELOW TO REGISTER FOR OUR FREE WEBINAR