When you're responsible for the payroll at your business, this process can take up much of your time. Even smaller manufacturing and distributing plants must ensure accurate and efficient payroll processing, whether the company is paying a few employees or a few hundred. If you're still processing payroll manually, now is the time to look for ways to streamline your processes and save hours in your workweek.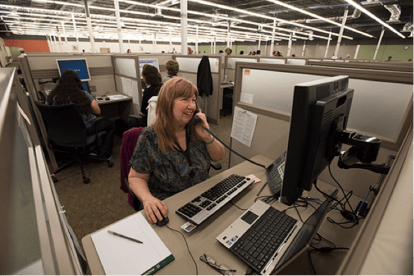 Image via Flickr by USDAgov
If your company isn't using payroll processing software, take the first step to simplifying payroll and streamlining the payroll process. Although smaller companies may balk at the cost of such a system, the price is well worth the time it will save for those in the payroll department. Modern systems can calculate taxes based on the ZIP code of where each employee lives, split employee costs over various departments and cost centers, and eliminate the need for duplicate data entry.
With a single system, employees can input their information that will be stored for use across payroll processing and other functionalities. The Sage 100cloud (Sage 100c) Management software is a great option for mid-sized or smaller businesses, offering simplified business operations to run a business in a way that's faster, simpler, and flexible to the needs of the organization.
Connect Time Tracking to a Payroll System
After you implement your payroll processing software at your distribution or manufacturing plant, the next step is connecting the time tracking system. Manually entering hours worked, paid time off, or other aspects of employee time can take hours every week. This manual processing also lends itself to errors and potential time theft. With an accurate system in place for tracking employee time, it's easier to create a report and pay each employee for hours worked.
Using a clock for punching in and out also creates a more honest work environment since employees can only clock in or out when they're physically at work. This practice can help reduce time errors, which can lead to payroll processing errors.
Onboard Employees Electronically
Almost every employee has had the experience of arriving to work on the first day only to find a stack of hand-cramping forms to complete. Spending the first day at work completing paperwork doesn't set a great tone for the company culture, nor does it provide the most accurate and efficient way to obtain the necessary information. Look for payroll processing software that offers electronic onboarding as one of the benefits. This process allows new employees to complete their forms online before they arrive at work, providing a more streamlined and positive experience.
The forms may include direct deposit authorization, I-9, and W-4 forms. After completing the documents, the information should be stored directly in the payroll processing system for the proper handling of sensitive details about each employee.
With the right tools at your disposal, you can streamline your payroll processes and create a more efficient atmosphere for everyone involved. Even smaller businesses can benefit from implementing changes that reduce errors and ensure accurate payroll processing every time.
---
We're happy to invite you to join us for a free event!
Attend our webinar and learn how our cloud solutions provide peace of mind enabling clients to focus on their business while the SCS team handles the information technology needed to support it.
Date & Time:
Thursday, October 18

,

2018


11:00 am - 12:00 pm


CLICK BELOW TO REGISTER FOR OUR FREE WEBINAR