After supporting Breast Cancer Awareness month in October, Southeast Computer Solutions has decided to double our dedication by raising awareness for the most common – but still horrible – cancer among men: prostate cancer. To do so, our male employees are participating in "Movember." The growing Movember movement is meant to "grow a Mo, save a Bro," and ultimately aims to "change the face of men's health." Therefore, we will be growing our facial hair to excessive lengths to help raise funds and support the cause.
Why Movember is Important to Us
An honorary member of the Southeast Computer Solutions management team is Jeff Roth, a consultant as well as a mentor to many of us. Jeff was diagnosed with prostate cancer ten years ago at age 45. "I feel fortunate that I get annual physicals each year and that my cancer was caught very early," he said. "Early detection, discovered just after a PSA [blood] test shows a higher than normal PSA reading, is the key to saving the lives of men who are diagnosed with prostate cancer." He also said, "Being told you have cancer at a relatively young age is a life-changer. I was lucky and recovered quickly and, because of that, I continue to counsel men under the age of 60 who are diagnosed with early-stage prostate cancer, letting them know that life can return to normal in many cases."
No matter what type of cancer it is, one fact remains the same – we need to find a cure. By showing our devotion to these causes and increasing knowledge by fundraising and donating, we here at Southeast Computer Solutions feel that we are helping bring that need to the forefront. Everyone on our team has been affected in some way by some form of cancer, so we want to do everything we can to honor those facing difficult times in their lives, because they are the true heroes!
That being said, team members Benjamin Partout, Eric Casal, Fred Reich, Jordan Berkowitz, Luis Rosero-Barros, Jesús Sanchez, and Mike Nario are all ready to grow their mos to save their bros!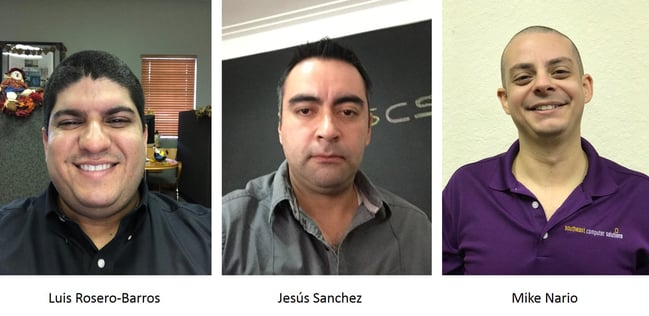 At the end of Movember, there will be a prize for the best mo – please come back each week for a visual update on where our mustaches stand! We also have our own fundraising page and would be honored to accept donations.
About Southeast Computer Solutions
Southeast Computer Solutions is based in Miami, Florida, and has additional operations in Mexico. For over 30 years, we have positively impacted the success of small and mid-sized businesses with effective business management implementations that improve our clients' operations. We listen, we are accessible, and we care. Learn more by visiting our website or calling 305-556-4697.