Is your computer server dying? Do you dread the question of what to do next? That is: Do we replace our old server with a new server or do we go to the cloud?
Cloud computing is "internet-based computing in which large groups of remote servers are networked to allow centralized data storage and online access to computer services or resources."
Before you decide what to do about "The Cloud," there are several things you need to know. For one thing, not all cloud services are created equal. Some cloud services are public, some private, and some a combination of the two.
Public Cloud Services
Public Cloud services are those in which a cloud company makes their resources – usually applications, software, and storage – available to the general public. You can use it over the internet either for free or with a pay-per-usage agreement.
Using a public cloud service has several benefits, including:
Ease of set-up: because the cloud company provides hardware, storage, and bandwidth, all you have to do is set up an account and transfer your data.
Scalability: purchase a plan that offers 100 gigabytes of data now and upgrade to 1,000 gigabytes if and when you need it.
Good pricing: while the cloud services may not necessarily be inexpensive, you won't be wasting money because you'll only have to pay for what you use.
Private Cloud Services
Private cloud services are different because their applications, software, and storage are typically offered to only a single client/business; it is sometimes known as corporate cloud services.
Using a private cloud service also has benefits: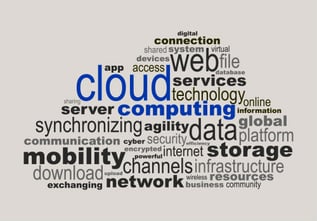 Security: because private clouds are designed to work with a single organization, the service can offer higher levels of security.

Compliance: Meeting compliance requirements, such as those from Sarbanes Oxley, PCI, and HIPAA, is not possible in the public cloud. Because the private clouds work with only one company and offer better security, they ensure compliance with such government regulations.

Control of Performance:

a private cloud company allows you to select the hardware, cache, and storage type – SATA or SAS, for example – for the company's virtual server.
Hybrid Cloud Services
A hybrid cloud company typically offers its clients the ability to use both cloud services and on-premises services. A business that chooses the hybrid cloud option provides and manages certain resources at their physical location but has other resources stored in the cloud.
Hybrid cloud services, like public and private cloud services, have advantages.
Better security: it's unfortunately impossible to be sure your data is 100% protected, but on-premise data is far less likely to get hacked than data stored in the cloud.

Lower cost: because the secure data is on-premises, it can use a public cloud service for other data storage, which is less expensive that private cloud data storage.

More control: businesses can use specific public cloud, or even private cloud, services without giving up control of their entire network.
For more information about cloud services or to find out which option suits your company best, please contact Southeast Computer Solutions. Together, we can move your business management practices to another level of efficiency.
About Southeast Computer Solutions
Southeast Computer Solutions is based in Miami, Florida, and has additional operations in Mexico. For over 30 years, we have positively impacted the success of small and mid-sized businesses with effective business management implementations that improve our clients' operations. We listen, we are accessible, and we care. Learn more by visiting our website or calling 305-556-4697.