Sonia Ferrera, the owner and founder of Southeast Computer Solutions, started decorating our office for her birthday many years ago. Because her holiday coincided with Halloween, she decided the occasion needed decorations, a ghoulish lunch, a costume party, and an office-turned-haunted house.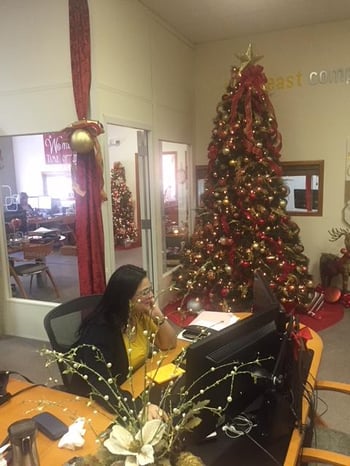 When Sonia noted the décor's positive effect on her employees, she decided to decorate for Thanksgiving with a pumpkin patch, complete with crows, scarecrows, and pilgrims. Then, figuring she was on a roll, Sonia started decorating for Christmas as well, turning the office into a winter wonderland.
That was years ago, and while Sonia doesn't personally handle the decorations anymore (there's a team for that now), more decorations go up every year, and the office gets more and more spectacular. In fact, the challenge we now face is running out of room in our office.
The current decorating coordinator, Marbely Garcia, says that Sonia has high expectations for this tradition; luckily, Ferrera approved this year's decorating, saying, "Pictures can't do it justice, as the panoramic view is key. We have five Christmas trees, polar bears, penguins, and much more. Every inch is filled with the Christmas spirit. We have our own version of the Rockefeller trees as they hit our ceiling."
Our decorations are so spectacular that the Miami Laker recently ran an article
about our holiday display!
We're a team all year, but the holiday decorating season makes coming to work extra special, and we wouldn't feel complete without our end-of-the-year, out-of-this-world holiday. Marbely says, "When I see the smiles on our employees' faces and hear comments like, 'WOW, you outdid yourself this year,' it reminds me how much this means to everyone."
Sonia adds, "The office is full of joy, and the employees come in every day and look for something new like children on Christmas morning. We have presents for employees, gifts for their children – even their pets. The joy and love we feel are priceless."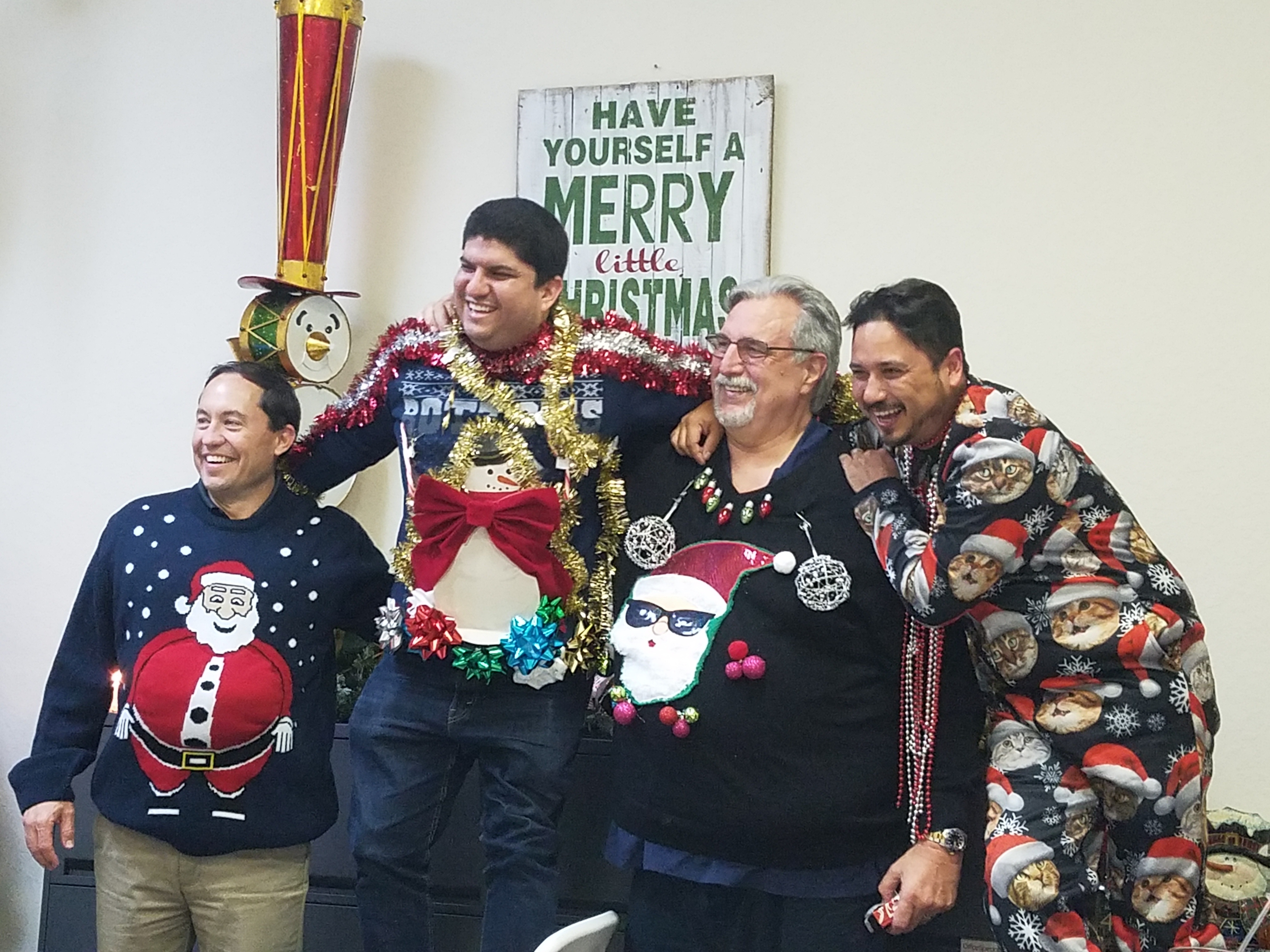 Company culture is essential to our team – if we're not united, it reflects on our business and how we handle our clients' needs. Holidays are a big deal for us. Not only do we go the extra mile to ensure that our team members have ample time with their families, we also value and appreciate the time we have together as a work family. This is highlighted by our Christmas party, where team members from across the globe unite in Miami to celebrate the season together. We're more than coworkers – we're family. We work so closely every day that it's second nature to celebrate the season with our "chosen" family.
Happy holidays, Merry Christmas, and Happy New Year from our family at Southeast Computer Solutions! To celebrate, our office will be closed on December 22, December 25, December 29, and January 2, 2018. As 2017 ends and we welcome 2018, we thank our clients, friends, vendors, supporters, and community members for a spectacular year, and we look forward to continuing to serve you.

# # #
About Southeast Computer Solutions
Southeast Computer Solutions is based in Miami, Florida and has additional operations in Mexico. For over 30 years, we have positively impacted the success of small and mid-sized businesses with effective business management implementations that improve our clients' operations. We listen, we are accessible, and we care. Learn more by visiting our website or calling 305-556-4697.