In our last blog about trade promotion management (TPM), you'll learn how to use Sage Enterprise Management (Sage X3) to manage TPM business needs without customizations or interfaces with third-party solutions. By no means does this solution cover all the functionalities that a customization or third-party solution would cover, but it does handle all the accounting and reporting needs.
Sage Enterprise Management's flexibility allows you to use price lists and the automatic journals to capture pertinent TPM information. The price lists are used to hold by line what the off-invoice or accrual values need to be, while the automatic journals hit specific GL accounts for each of the off-invoice or accrual values.
The first configuration to consider is the sales price list. On that price list, you can configure different discounts and expenses; the key is to identify which element is off-invoice and which element is for accrual purposes.
To do this, go to Setup > Sales > Price lists > Price structure. When the [Net price -tax] field is set to "Yes," it will be used to determine the final value of the invoice. When set to "No," a calculation that can be used by an automatic journal is done and stored with the document.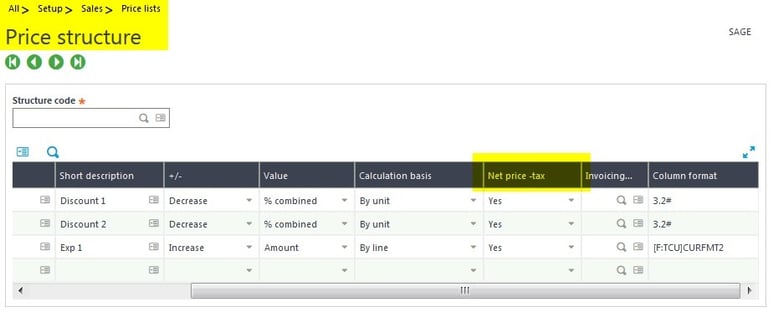 The next configuration is modifying the automatic journal; there are typically two modifications you'll make. First, you'll change the way the invoice posts, which involves adding the various elements of the trade promotion. (Charges and discounts have their own GL accounts that affect the sales amount.)
There are also allowances that need to be accrued at invoicing time, since you won't yet know what the true value will be. You'll agree on those discounts during negotiations with the customer and they'll be part of either an annual agreement or a specific trade promotion.
When the payment comes in and it's time to reconcile what the customer is reporting, you use the payment attributes to 'true up' the estimated discounts you thought would be claimed. Any variance can be sent to a separate GL account.
Now that you've linked the actual off-invoice amount and, more importantly, the accruals, accounting can compare payments against invoices and actual deductions taken versus those accrued.
This completes the trade promotion management series. In the first post, we discussed what TPM is and a little bit about the experience Southeast Computer Solutions has with TPM. In the second post, we discussed a TPM implementation done with a customization for a Sage 100 client while post three reviewed how we interfaced Sage Enterprise Management with a third-party TPM application. Finally, this post discusses how you can personalize Sage Enterprise Management to manage your TPM business needs.
Questions about trade promotion management or Sage software tools? Please contact us for more information.
About Southeast Computer Solutions
Southeast Computer Solutions is based in Miami, Florida and has additional operations in Mexico. For over 30 years, we have positively impacted the success of small and mid-sized businesses with effective business management implementations that improve our clients' operations. We listen, we are accessible, and we care. Learn more by visiting our website or calling 305-556-4697.