We wrote about trade promotion management in part 1 of this blog series; in part 2 we wrote about a custom-built TPM solution for Sage 100. In this blog, we'll discuss an integration done between Sage Enterprise Management (Sage X3) and a third-party TPM solution.
Third-party Solutions
The third-party TPM solution offers all the features and functionality defined in part 1; in this case, it's written for and accessed from Salesforce.com. The goal of the integration was to send information about master files and transactions to the TPM to be shared between the systems as required.
For this implementation, we decided to use a third-party middleware that already knew how to communicate with a Salesforce.com platform. We chose to use Taskcentre by Orbis Software. "TaskCentre is a powerful suite of business process management (BPM) technologies that 'loosely couples' business applications, enabling organisations to automate virtually any employee-driven business process."
Information Collection
The TPM system needs product, customer, customer–product, and SKU net activity information. The TPM solution also needs information about payments received to manage the reconciliation process. For Sage Enterprise Management, we needed to capture information about promotions to properly create a sales order that considered all the applicable off-invoice and deductions. Sage Enterprise Management also needed information about the reconciliation process to properly update payment receipts to adjust accrual accounts and deduction clearing accounts.
One of the major decisions made by the Sage Enterprise Management customer was that Sage Enterprise Management would manage master file information; this was an important decision because it allows the integration of this type of information to be one way. When integrating systems, it's best to define one system as the master to avoid bilateral information exchange and avoid the need for synchronization between systems.
Customization
We personalized several Sage Enterprise Management configurations to allow for storage of the master file information the TPM tool needed and to hold the combinations of necessary information. Because some promotions aren't product-specific but rather product-family driven, a statistical group was used to hold the promo group that a particular product belongs to. This information was sent to the TPM while the product-customer information was held in the product record in the customer tab. We had to expand the number of customers available from 99 to 200, and we created several GL accounts to properly account for the different off-invoice and allowances the customer has.
The overall process looks something like this: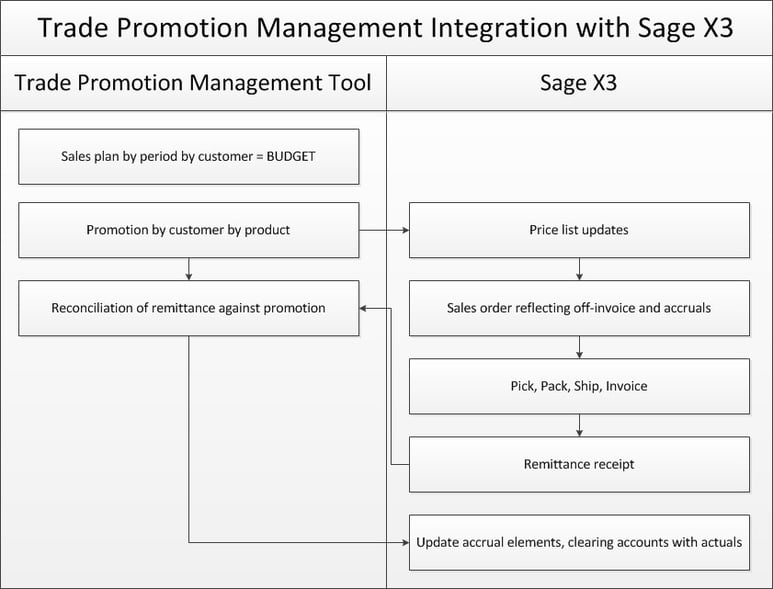 There are other types of promotions the TPM can handle that we didn't integrate due to the volume of the promotions. For example, one promotion could lead to sending a check to a customer; we could have this promotion type create an AP invoice to cut a check. Another promotion results in a credit memo being issued to the customer; in that case, we could create an AR credit memo for the customer.
The major challenge of this project was learning TPM terminology. We worked together with the third-party provider and the Sage Enterprise Management customer to define business processes and interface specifications that led to a successful implementation.
For the next blog in the series, we'll discuss how we've personalized Sage Enterprise Management functionality to achieve business needs when using trade promotions. We'll also discuss some specific configurations, including automatic journals that provide accounting with timely and accurate sales revenue recognition.
For more information about TPM management, Sage 100, or Sage Enterprise Management, please contact Southeast Computer Solutions today.
About Southeast Computer Solutions
Southeast Computer Solutions is based in Miami, Florida and has additional operations in Mexico. For over 30 years, we have positively impacted the success of small and mid-sized businesses with effective business management implementations that improve our clients' operations. We listen, we are accessible, and we care. Learn more by visiting our website or calling 305-556-4697.