Big data is available everywhere, offering an overabundance of information to businesses. Making proper use of this large amount of data is essential for companies to stay competitive. Properly tracking information in field services management is particularly important for companies whose products and services are largely provided at clients' sites. Fortunately, there are streamlined solutions like Sage X3 that will give you the functionality you need to make use of all your data no matter where you are.
Gather Information Remotely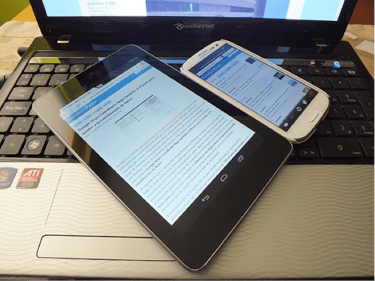 Image via Flickr by miniyo73
One of the primary challenges of field services is integrating information across remote locations. For businesses such as plumbing, HVAC services, or pest management, Sage X3 offers mobile applications that allow your technicians to access and enter information from anywhere.
This means that you can gather essential data while your techs are still on the road. These individuals can enter and evaluate details related to product stock, installation management, customer orders, and more in real time. This gives you the most up-to-date data possible, so your decisions are driven by accurate information.
Manage Your Warehouse Efficiently
Sage X3 offers powerful warehouse management features that make it easy to track stock, organize products, and streamline ordering. This is valuable in the field services industry because it helps ensure that your technicians will find what they're after when they return to restock.
If you maintain a massive warehouse environment that supplies field service technicians throughout a larger region, you can take advantage of advanced warehousing tools that integrate RF scanning, directed picking, and stocking in quantities. This software gives you immediate access to the data you need to make informed decisions for everyone in the operation, from the trucks on the road to the shelves in the warehouse.
Track Essential Customer Information
Big data gives businesses access to a wealth of information on each customer, but this data isn't useful unless it's organized in a way that makes it easy to use. With Sage X3, your service technicians can access the customer's service history, warranties, contracts, and more at a glance. This allows them to arrive at the door with a thorough understanding of what the customer needs.
Eliminate the need to ask questions, search for answers, or tackle laborious troubleshooting. Sage X3 simplifies big data so your employees can reach the end-points they're after in as little time as possible, enhancing customer satisfaction every step of the way.
Keep Equipment on Hand
Managing products and equipment across multiple vehicles is a big task involving a lot of data, which is why you need a software solution that's built to handle this specific part of field services management. Sage X3 offers inventory tracking, mobile asset management, and warehouse integration so your technicians can utilize big data properly to keep essentials on hand and be sure they're prepared to complete jobs quickly and efficiently.
Don't miss out on the opportunity to fully utilize all that big data has to offer. Enhance your field services with Sage X3 to power your data management.
---