Sage X3 and Microsoft Dynamics 365 (formerly Microsoft Dynamics AX) are two enterprise resource planning (ERP) systems that share many similarities. However, a few key differences between these products will help you determine which one is the best fit for your business. If you're thinking of implementing an ERP software package for your business, consider this comparison between two of the most popular products in this category.
Both Focus on Midmarket Businesses
Sage X3 and Microsoft Dynamics 365 are both geared toward midsized companies. The functionality, scope, and scalability of both of these options make them ideal for midmarket businesses. This is a key similarity between these advanced ERP systems.
Both Emphasize Cloud Hosting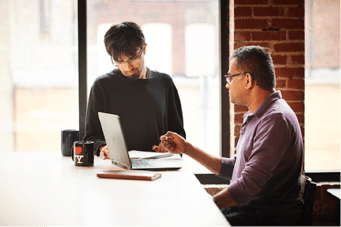 Image via Flickr by alphalab
One of the key components of both Microsoft Dynamics 365 and Sage X3 is cloud computing. Moving storage to the cloud offers a number of important benefits for businesses, including secure data backup, increased productivity, real-time data analysis, and remote access to important information. In short, both ERP systems can help businesses increase profits and offer better service to their clients and customers.
Publisher Size Is Remarkably Different
While both Sage X3 and Microsoft Dynamics 365 have been designed with midmarket businesses in mind, it's worth considering how these software options factor into a larger lineup of products. Sage Enterprise Management is the flagship ERP system for its reseller Southeast Computer Solutions. Microsoft Dynamics 365, on the other hand, is one of many products its publisher sells.
Because Microsoft is so vast in scope, it's not a priority to the company. Those who choose Sage Enterprise Management for their business work with a company that specializes in producing a select number of well-designed ERP systems.
Flexibility Is a Factor
The type of ERP system you choose can affect other programs and processes for your business. With Microsoft Dynamics 365, you get a product that's completely compatible with Windows and all other Microsoft applications (including Word, Excel, Outlook, SharePoint, and more). That can be helpful for a business that already uses Windows, but it's a major obstacle for companies that primarily rely on Apple or Linux programs. Even if you do use Windows currently, you'll need to make sure all your programs are Microsoft compatible in the future to keep using Microsoft Dynamics 365.
With Sage X3, you get a much more versatile solution for your ERP needs. This software system features open architecture and native functionality that allow it to be used with a number of programs and applications. It's easy to use right from the get-go, and a wide variety of add-ons allow for further customization. Plus, Southeast Computer Solutions offers helpful services for software implementation, training, and support to make sure everything runs smoothly for your employees when you transition to the new system.
As you can see, these two ERP systems differ in a few critical ways. Use this information to help you choose between Sage X3 and Microsoft Dynamics 365 for your company's ERP needs.
---