Electronic invoicing is a requirement of the tax authority in Mexico; the first version came up in 2004, and the most representative change was the CFD that became more popular in 2009 and opened the door to what we know as CFDI. At that time, the Mexican tax authority changed the minimal requirements for companies with the objective to bring more of them into the electronic invoicing schema. An electronic invoice is an electronic representation of a paper invoice and must fulfill specific requirements for security and authentication to prove that the invoice is a valid document registered against the tax authority. The electronic invoicing requires two documents – the XML file, which contains the information, validations, and digital signature, and the PDF, which is the graphic representation of the XML file.
With so many requirements, companies needed their ERP systems to help them meet the requirements; as implementers and developers, we at Southeast Computer Solutions felt that it was time for us to evaluate Sage products and make changes that were necessary. To us, this meant not only making modifications to screens and considering new data with new validation rules but also adding functionality. Therefore, we made our systems capable of connecting to third parties that take care of stamping invoices to ensure their validity and authenticity; now our products are capable of creating any type of electronic invoice required (invoice, credit and debit memos, for example) and "addendas" or "complementos" for additional information. We can also connect to any PAC to stamp invoices from our customers.
Electronic Invoicing Setup for Sage X3


Setup Platform

Electronic invoice setup
Business partners
Companies



New Tabs Modules

Invoices (sales modules)
Customer BP invoice (AP/AR accounting module)
Receipts (Pediments to capture pediments information)



Inquiry

Stock transactions inquiry
Transactions by date inquiry



Reports

IVA sales report
IVA purchases report
X3 was enhanced to support electronic invoicing for Mexico. We have it ready on all versions, starting with 6.5, it can be installed on top of any legislation, and it's provided in both Spanish and English.
We created a .NET program and X3 web services to read all the information regarding companies, business partners, and invoices from X3; that information is used to create the files needed by the tax authorities.
The following screen allows you to capture the information needed to interact with the third-party software that stamps the invoices.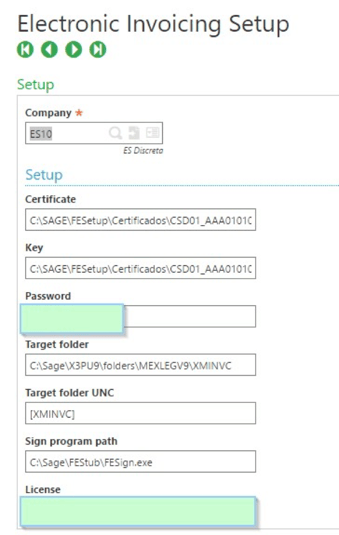 All the modifications to standard screens like this are visible for all companies within the X3 folder but only enabled on the ones that were set up with Electronic Invoicing Setup function.
The electronic invoice tab was added to capture customer information, company information, and invoice information.


The electronic invoice button also allows you to sign the invoice; once signed, the invoice can be posted.
After the invoice is signed, the electronic PDF is attached for future references using web services managed by a .NET program, which allows the user to keep all documents within X3.
Contact Us to Request a Sage X3 Demo
The status message field shows current information regarding the electronic signature process.
Invoices, credit memos, and debit memos can be signed appropriately by choosing the correct voucher type, and the enhancement allows signing invoices in pesos, U.S. dollars, and Euro currencies.

Customer BP Invoice (AP/AR accounting module)
The electronic invoice tab that captures invoice information has the same functionality sales invoice has.

Receipts
Another new tab, Pediments, was added to capture pediments information.
All lines in the receipt will share the same pediments information, which you can use for stock inquiries to report pediment details to the tax authorities.

Stock Transactions inquiry
The following screen was modified to allow filtering by pediment ID. In addition, pediment ID and pediment date were added to the movements/products results grid.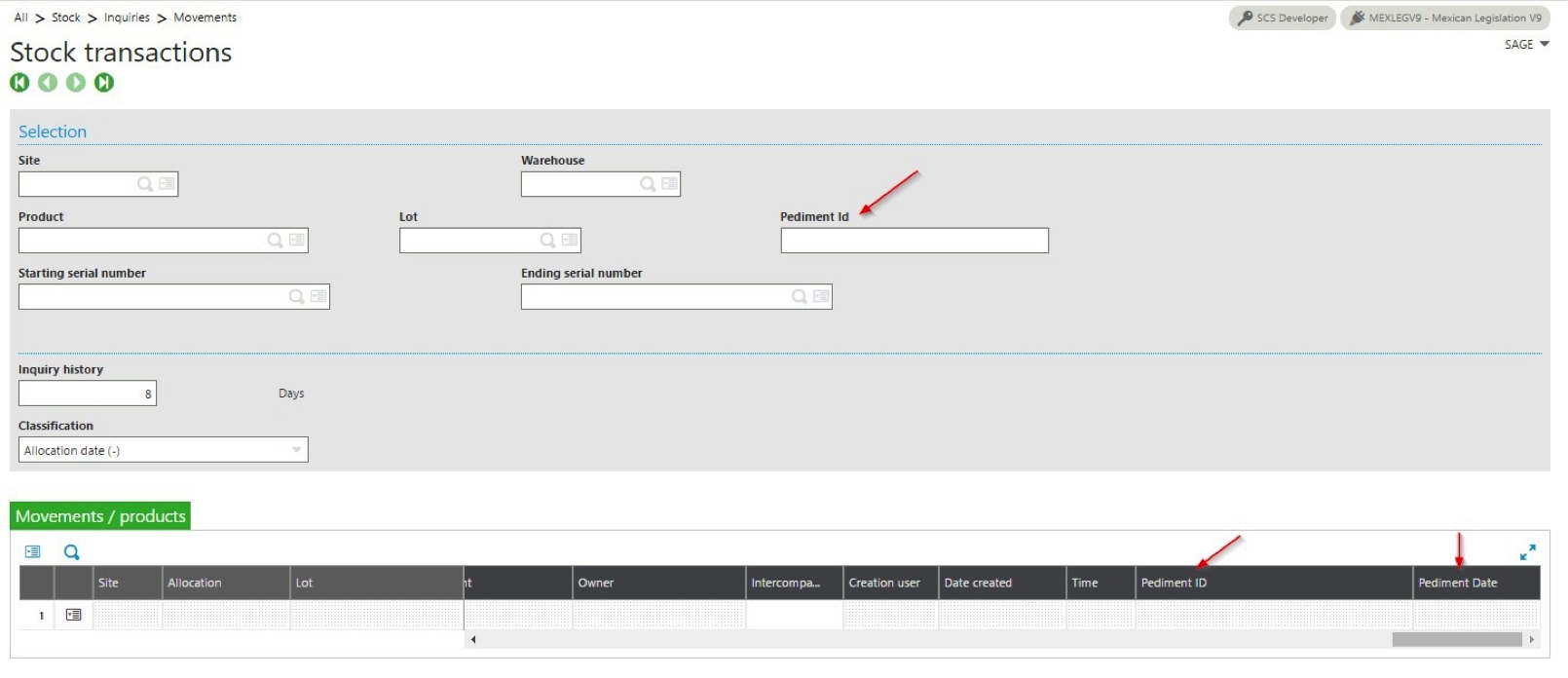 Transactions by date inquiry
Pediment ID and pediment date were also added to the transactions by date results grid.

As expected by the tax authorities, we can also print the IVA on sales and purchasing reports.
IVA Sales report
The following report was created to track IVA sales.

IVA Purchases report
And one to track IVA purchases.

We designed the Mexican Fiscal Requirements Enhancement specifically for businesses that run Sage X3 in their home country and have at least one subsidiary in Mexico. If you have questions about this add-on, or about Sage X3 in general, please contact us.
Talk to Us About Sage Software Support
About Southeast Computer Solutions
Southeast Computer Solutions is based in Miami, Florida, and has additional operations in Mexico. For over 30 years, we have positively impacted the success of small and mid-sized businesses with effective business management implementations that improve our clients' operations. We listen, we are accessible, and we care. Learn more by visiting our website or calling 305-556-4697.