IT hosting services provide a wealth of benefits, from affordable implementation to automatic updates and off-site management. Your host handles the maintenance and upkeep of the system while you enjoy the functionality and scalability. A good IT host acts as an extension of your company, so you want to choose the right provider. Make sure you address these considerations as you're making your choice.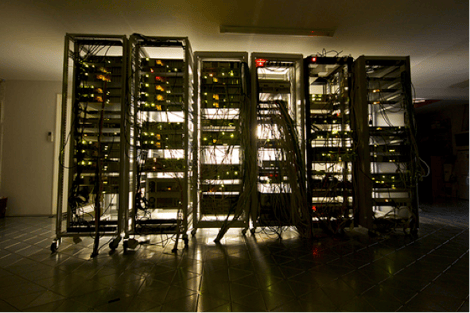 Image via Flickr by not4rthur
Business IT needs vary greatly by industry. If you're in banking, financial services, and insurance (BFSI) or health care, you must meet federally mandated security requirements. You may prefer in-house management in this case so that you have a tight reign on how your IT services and solutions are handled. If you're interested in fully managed services, you should look for a provider that's familiar with your industry. Your managed service provider should ultimately function as an extension of your organization and have customized solutions that fit your specific vertical.
On-Site vs. Cloud-Based Solutions
One of the primary decisions that you'll need to make regarding your IT hosting is whether you want to employ on-site solutions or turn to a cloud-based service provider. Working in the cloud, you'll enjoy easy scalability and access to a range of solutions. However, keeping your IT hosting in house gives you a higher degree of control for optimum customization and security management.
Cost considerations are important as well. Cloud solutions are often more affordable to implement, while purchasing and maintaining your own servers can be costly.
Required Functionality
Draft a comprehensive list of your IT needs before you begin shopping for a hosting service. Are you primarily looking for web hosting? In this case, you'll want to focus on the size and requirements of your website. Are you providing a primarily informational site, or are you operating a fully functional online store? What are your needs regarding images, videos, and flash? If you're primarily interested in file hosting, you'll need to consider storage space, safety, and security.
You may also opt for hosted IT applications and infrastructure. These software as a service (SaaS) solutions allow you to operate applications hosted on the cloud. Hosted applications can offer an affordable and scalable alternative to on-site systems. If you're considering SaaS options, you should determine exactly what you need the applications to do so that you can find the optimum solution for your company.
Integration Considerations
If you're incorporating hosted IT services alongside on-site systems and solutions that are already in place, you'll want to address integration. Will your new hosted services be able to integrate seamlessly with your existing infrastructure, or will you need to update other systems as well? IT consulting services can prove invaluable at this time, assisting with product and service selection, implementation, and integration for a smooth transition.
The right IT hosting solutions will keep your company functioning smoothly with minimal expense. Compare your options carefully to find the best fit for your business's distinct needs. You won't find a one-size-fits-all solution, but you'll discover many providers so that you can find a solid fit for everything you seek.
---
About Southeast Computer Solutions
Southeast Computer Solutions is based in Miami, Florida and has additional operations in Mexico. For over 30 years, we have positively impacted the success of small and mid-sized businesses with effective business management implementations that improve our clients' operations. We listen, we are accessible, and we care. Learn more by visiting our website or calling 305-556-4697.