Traditional ERP systems frequently use a segmented chart of accounts, which means that all the reporting elements are part of the overall account, with a separator for each segment. This approach results in many different accounts. To track three sites, five cost centers, and five product lines, for example, you'd need 75 account code combinations – and you'd end up with a lengthy and complex chart of accounts. Adding a new site or cost center could potentially force you to add hundreds of additional accounts.
Streamlines Your Chart of Accounts
Sage X3 lets you keep it simple -- you only need to set up your primary account codes. Even as your business changes, there's no need to add hard-coded segment combinations.
Tracks Your Business Like Never Before
Unlike traditional accounting systems, Sage X3 enables you to "tag" transactions as well as operational data with dimension values. Tagging with dimensions – versus assigning transactions to hard coded individual accounts – enables you to add business context to your data. Once you create a dimension type, you can use it for any transaction – GL, AR, AP, fixed assets, and more.
As your business changes, you can add the dimension types you need to easily track what's important to your business (up to nine per ledger). Each dimension type you set up can have practically unlimited values.
Saves Time on Reporting
Dimensions will fundamentally improve your reporting, making it easier for you to get fast answers to your business questions. Dimensions are integrated into the user interface of Sage's business intelligence modules (and can be referenced via other BI tools that integrate with Sage X3). It's simple to view performance from any new angle you need; as you create reports, simply use drop-down lists to filter, group, and organize your data by dimensions. For example, you can go from a standard income statement to profitability by project or revenue by geography with a few clicks of the mouse.
In the sample screenshot below, the Dimensions options are highlighted in red. You can create up to 20 dimension types per company in Sage X3, although only nine can be applied to an individual ledger (you can set up multiple ledgers per company as well, but that's another topic for another blog). In the example below, the "North American" ledger for this sample company has six dimension types set up.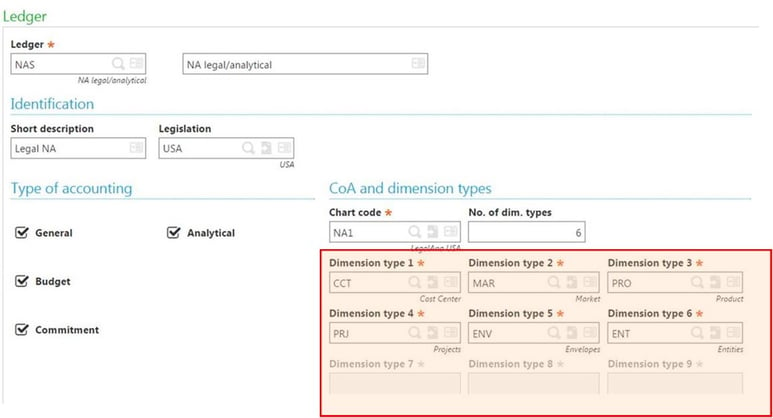 The Dimension Types (or Segments) in this sample company are defined as the following:
CCT = Cost Center
MAR = Market
PRO = Product
PRJ = Project
ENV = Envelopes (used for Budgeting ONLY)
ENT = Entities (used for Budgeting ONLY)
When you set up a GL Natural Account (i.e. office supplies, travel & entertainment, etc.), you need to tell the account which of the six dimension types apply to this GL account: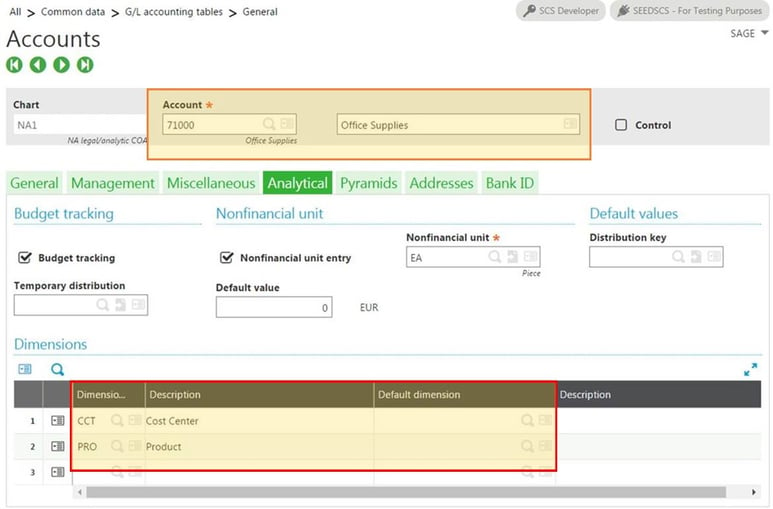 You can see that for each GL account (in this case 71000 = Office Supplies), you can go to the Analytical Tab and define in a grid the various dimensions that apply to this GL account. In this case, cost center and product; that way, every time we post a transaction to account 71000, the system will know to prompt the user for Cost Center and Product.
Whereas for another GL account (in this case 41000 = Sales Revenue) you can go to the Analytical Tab and define other dimensions; this account will prompt for Market, Product, and Projects.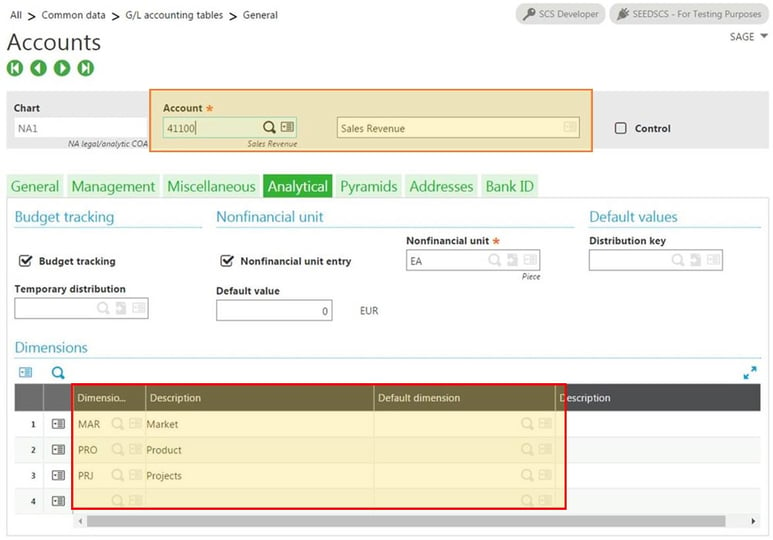 For each Dimension type, the user can select from a drop-down list of valid values financial statements that can later be sorted/filtered by each value: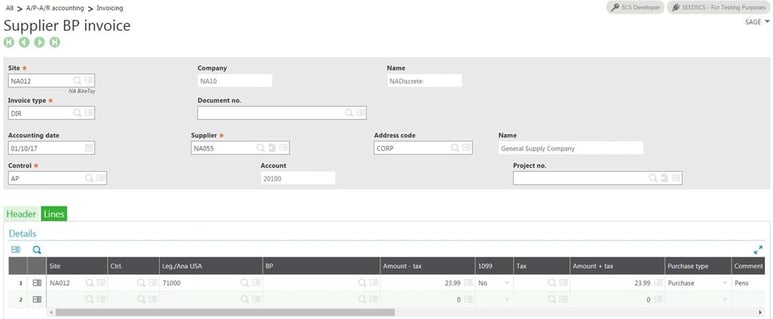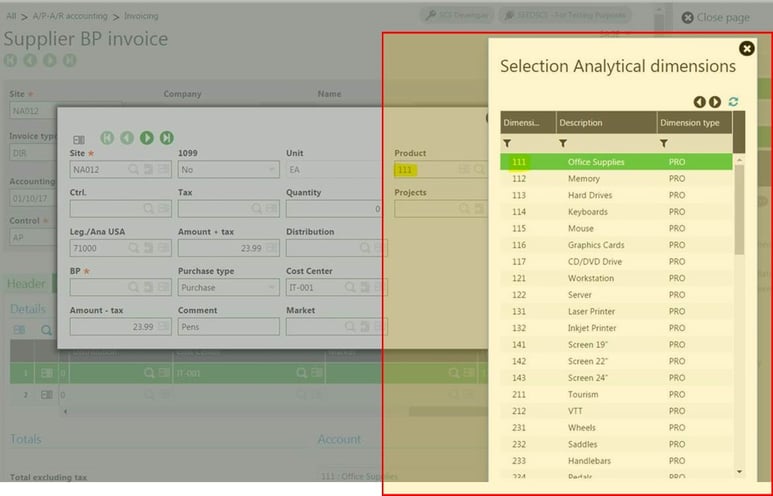 As you can see, dimensional accounting has many benefits versus traditional accounting. If you have other questions, please contact Southeast Computer Solutions for help.
About Southeast Computer Solutions
Southeast Computer Solutions is based in Miami, Florida, and has additional operations in Mexico. For over 30 years, we have positively impacted the success of small and mid-sized businesses with effective business management implementations that improve our clients' operations. We listen, we are accessible, and we care. Learn more by visiting our website or calling 305-556-4697.