Occasionally you may see Suspended Matching in the Journal Status Monitor on Sage X3. This can be caused either by a setup problem or possibly a locking issue. Read our blog for more information on how to clean up Suspended Matching in the Journal Status monitor within Sage x3.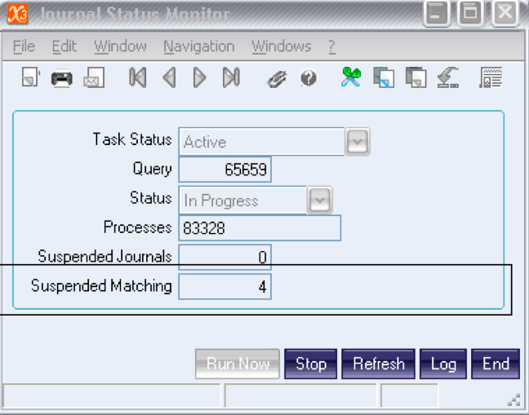 Suspended Journals – Number of journals pending posting (make sure JSM is running).
Suspended Matching – Number of matching groups pending validation (matching)
RESOLUTION(s):
If it is a locking issue the suspended matching will eventually clear up by themselves. By clicking the Refresh button every few minutes to refresh the screen you may see the number of suspended matching go down.
If it is a setup issue please follow the steps below:
1. There should be a requester on your system called SUSMATCH or MTCBATCH

The Requester is located (these paths are on the Admin menu and may be different on your custom men):

V13 & V14 - Parameters > Usage > Create Requests.

V5 Parameters/Setup > Usage > Prints > Requester.
RELATED: 5 STEPS FOR A SMOOTH MIGRATION TO SAGE X3

2. Take a look at the invoice or the payment noted in the Requester.

3. If the invoice looks to be correct, i.e. it's matched properly to the payment and the ATB is also correct, then the suspended matching can be removed (see step 4).
4. If the invoice does not look correct, this can be resolved by performing an accounting cancellation on the payment or manually matching the invoice to the payment. If you cannot clear the document to be correct on the ATB you may need to submit a support ticket for additional assistance.


LEARN MORE: AUTOMATIC JOURNAL MIGRATION IN SAGE X3
5. Once the invoice is correct and the ATB is also correct, you will use table maintenance to remove the record from the MTCBATCH table by walking thru the following steps:
To delete from MTCBATCH, using the 'match number' from the Requestor you will need to delete as many records with same number as needed:

In the above example there are 2 records for Matching Number 692. In the MTCBATCH table (Development > Utilities > Table Maintenance) you will use the Selection dropdown to bring up the first record. Delete the record…

AND then use the VCR arrows to scroll to the next record

and Delete the record. Repeat this process until all records of the same Matching Number are deleted.
---
About Southeast Computer Solutions

Southeast Computer Solutions is based in Miami, Florida and has additional operations in Mexico. For over 30 years, we have positively impacted the success of small and mid-sized businesses with effective business management implementations that improve our clients' operations. We listen, we are accessible, and we care.
Learn more by visiting our website or calling 305-556-4697.